Sukiyaki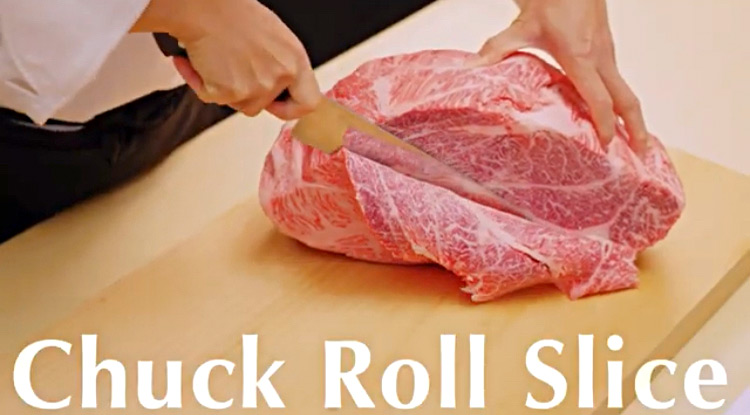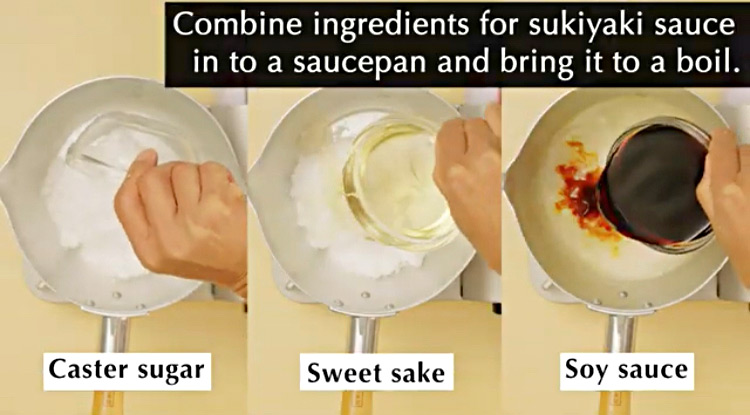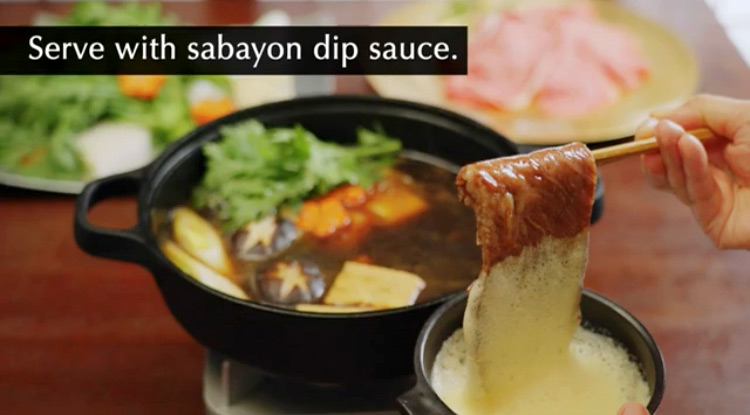 Chuck Roll Slice, 1 Leek, 4 Shiitake mushrooms, 1/4 bunch of shungiku (chrysanthemum leaves), 1/2 pack of broiled tofu, 1/3 Carrot, 4 Rectangle rice cakes, Shirataki noodles, Kombu soup stock (cold brew), Beef tallow.
Sukiyaki sauce ... 180g Soy sauce, 180g Sweet sake, 100g Caster sugar, Caster sugar for searing meat, 4 Eggs.

Wagyu rice in clay pot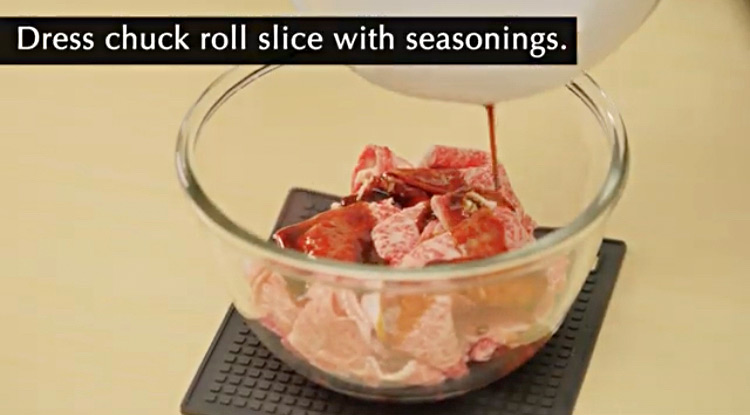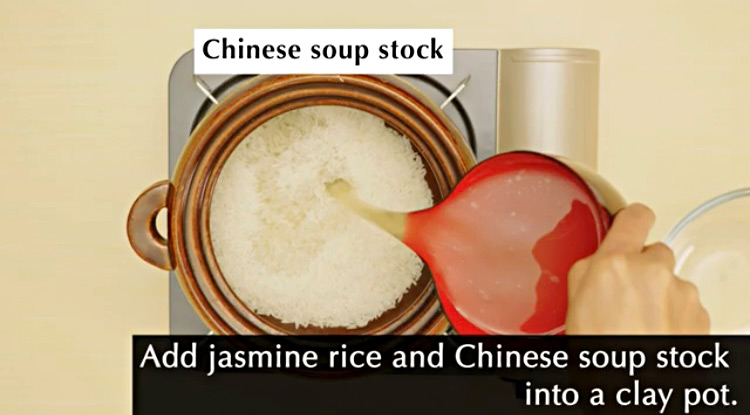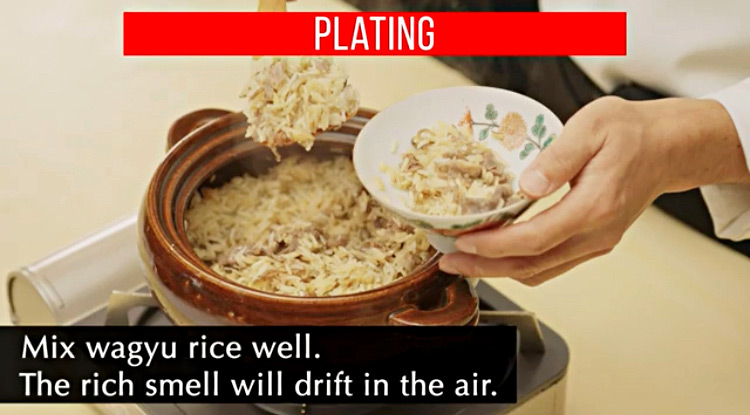 Chuck Roll Slice, 300g Jasmine rice, 40g Mushrooms, 1 Slice of ginger, 3g Garlic, 20g Oyster sauce, 30g Soy sauce, Salt, Pepper, 300cc Chinese soup stock, Peanuts (to taste), Japanese parsley (to taste), egg crepe.

Wagyu & Seafood Hot Pot with Spicy Black Chili Soup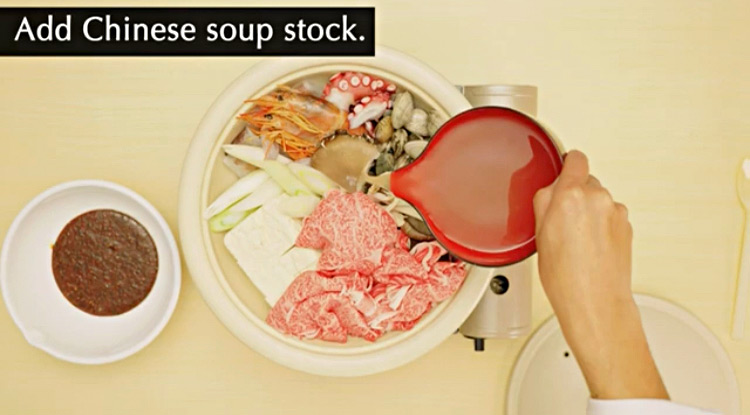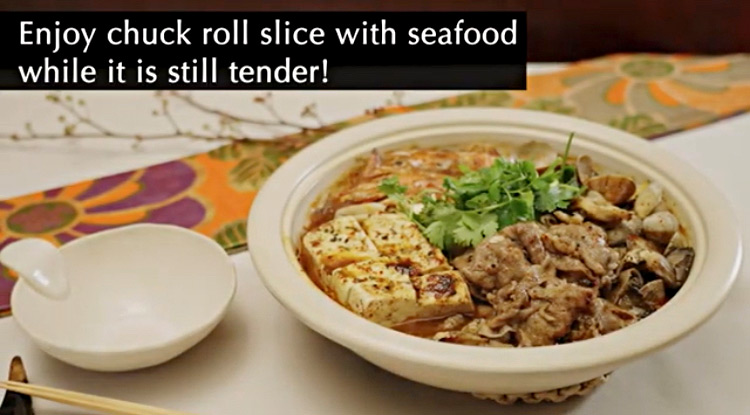 Chuck Roll Slice, 2 Head on shrimps, 150g Clams, Squid, Octopus, 1 Leek, 1/2 pack of tofu, 1/2 bunch of coriander, 1/2 pack of mushrooms, 25g Starch syrup, 100g Gochujang, 20g Grated garlic, 15g Korean red chili pepper, 20cc Soy sauce, 20g Grinded black sesame, 15cc Shaoxing rice wine, 250cc Chinese soup stock.

Shabu shabu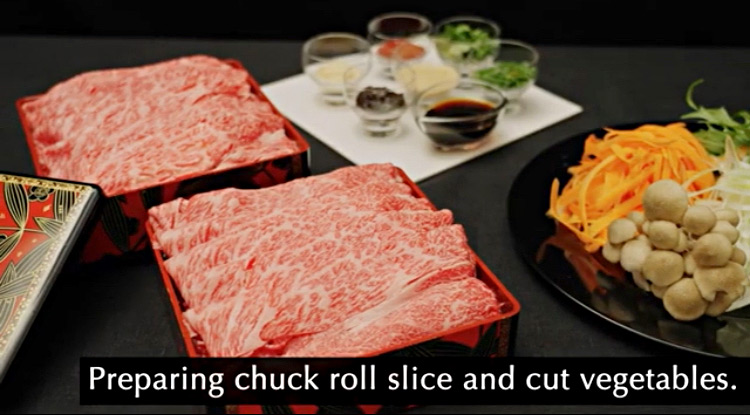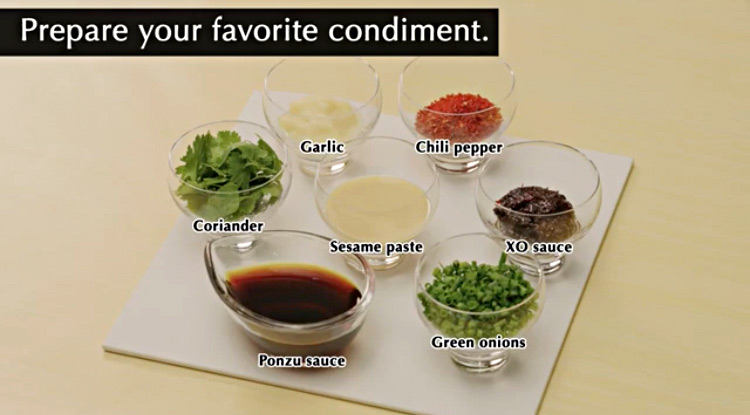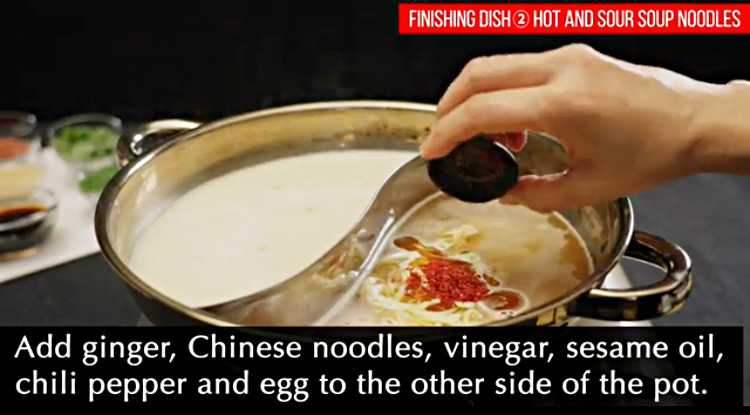 Chuck Roll Slice.
Ingredients for shabu shabu soup (900cc) ... 1L Water, 20g Kombu, 40g Dried bonito flakes, 1 Dried, shiitake mushroom, 100g Japanese mustard greens, 100g Mushrooms, 1 Carrot, 1 Leek, 50cc Sweet sake, 25cc Light soy sauce, 5g Hondashi (fish broth powder), 5g Sugar, 10g Salt, 1 Yuzu / citron.
Finishing dish(1) hot and sour soup noodles ... 5g Vinegar, 1 Egg, Chili pepper (to taste), 5g Ginger, Sesame oil, 2 Servings Chinese noodle.
Finishing dish(2) Shrimp and soy milk risotto ... 180cc Soy milk, 5g Dried shrimp, 30g Chinese yam, 75g pack of rice.

Wagyu wrapped Oyster braised in Wine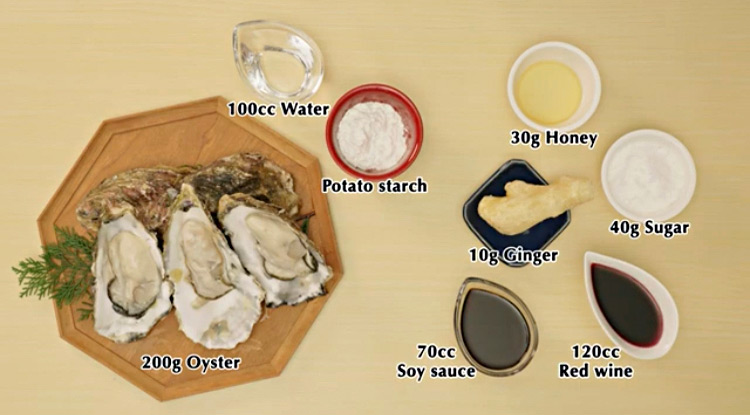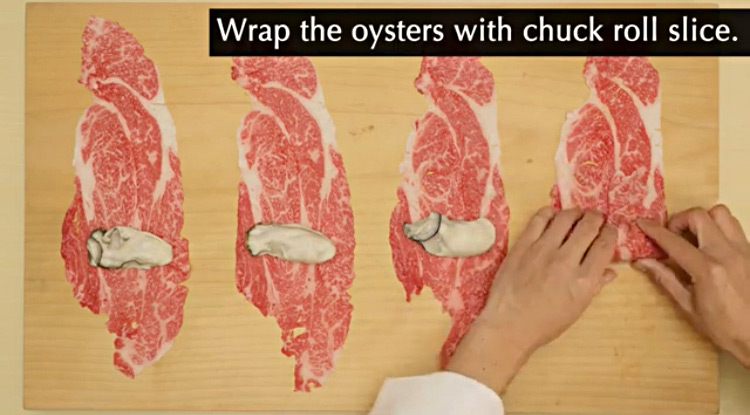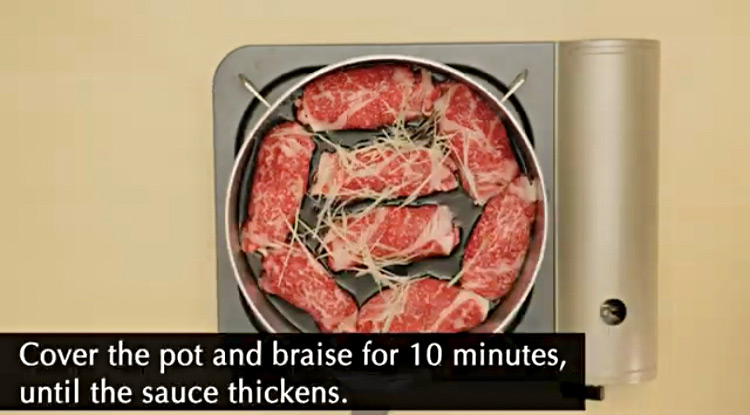 Chuck Roll Slice, 200g Oyster, 10g Ginger, 120cc Red wine, 40g Sugar, 30g Honey, 70cc Soy sauce, 100cc Water, Potato starch.

Wagyu in Korean style Noodles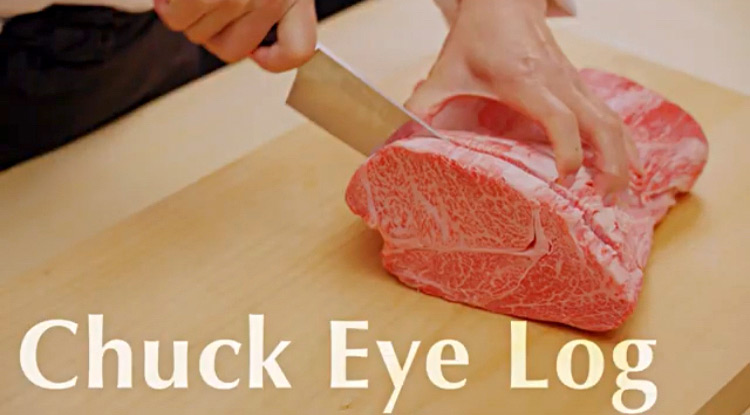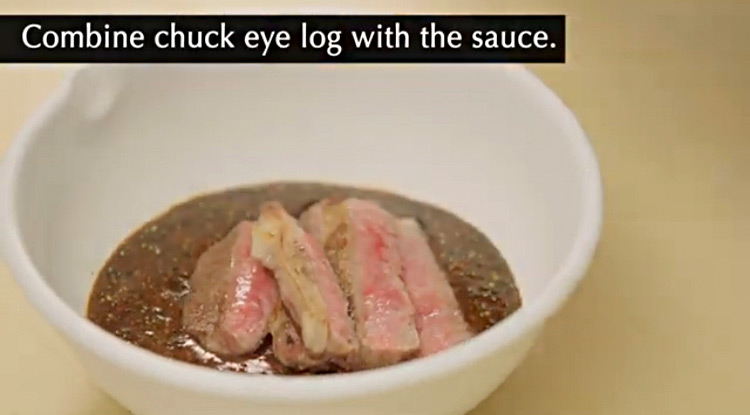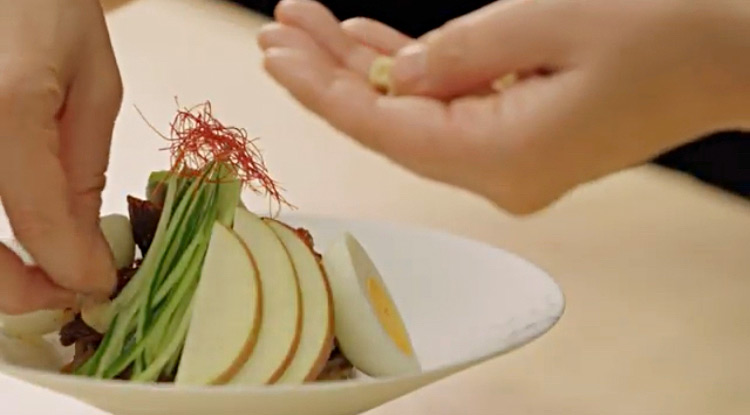 Chuck Eye Log, 160g Korean cold noodle, Vinegar, Soy sauce, 1 Boiled egg, 10g Coriander, Chili threads, 5g Cashew nuts, 1/2 Cucumber, 1/4 Avocado, 2 Slices of apple.
Sauce for Chuck Eye Log ... 10g Grated garlic, Japanese pepper powder, 15g Honey, 30cc Vinegar, 30cc Soy sauce, 30cc Sesame oil, 30g Sugar, Korean red chili pepper powder, 15g Grinded black sesame, 60g Gochujang.

Seared Wagyu with Avocado Cream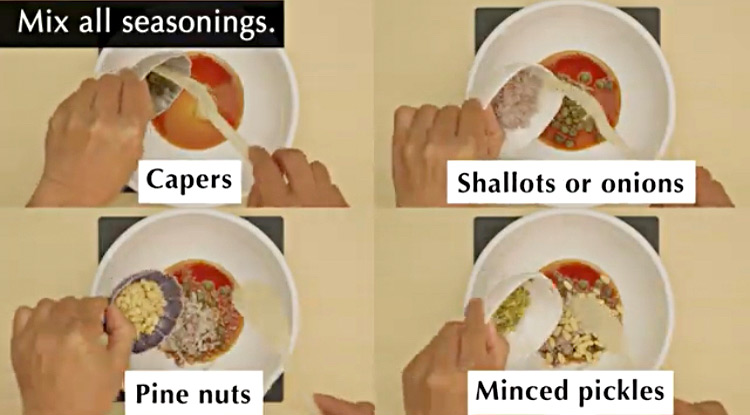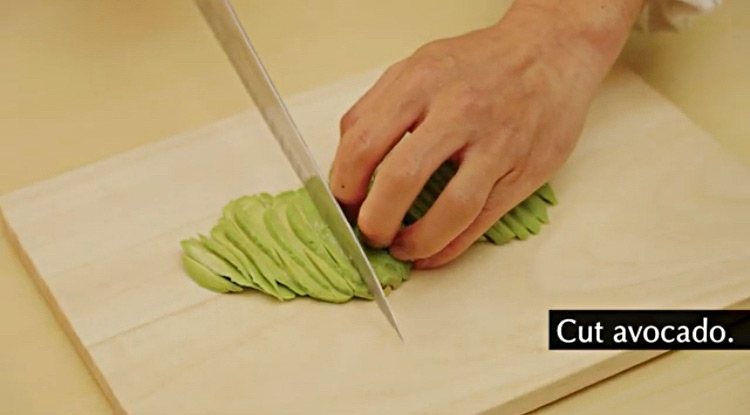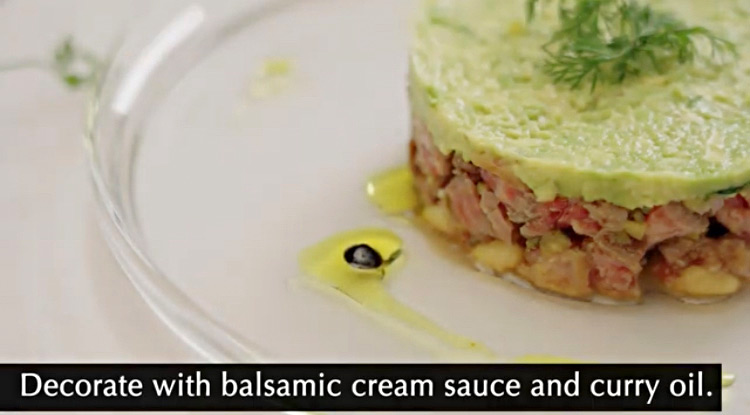 Chuck Eye Log, 1 Avocado, Garlic toasts, Curry oil (olive oil, curry powder), Balsamic cream sauce, Dill, 20g Shallots or onion, Grated garlic, 1g Salt, 10g Capers, Lemon juice, 15g Minced pickles, 10g Pine nuts.

Peking Duck Style Wagyu Wraps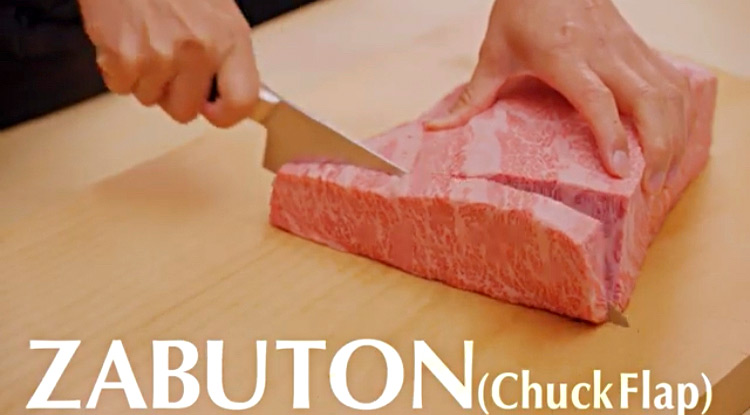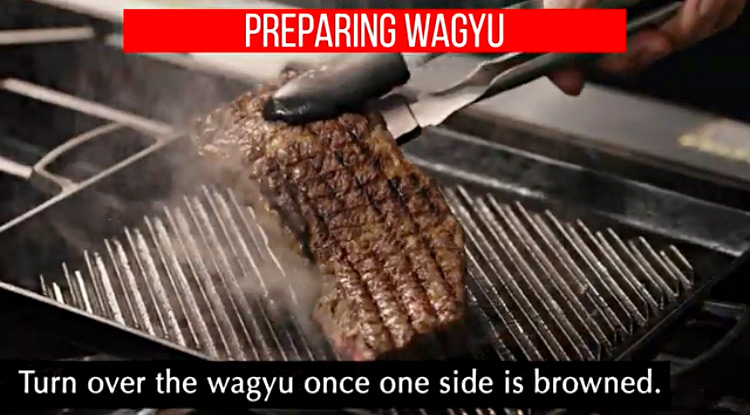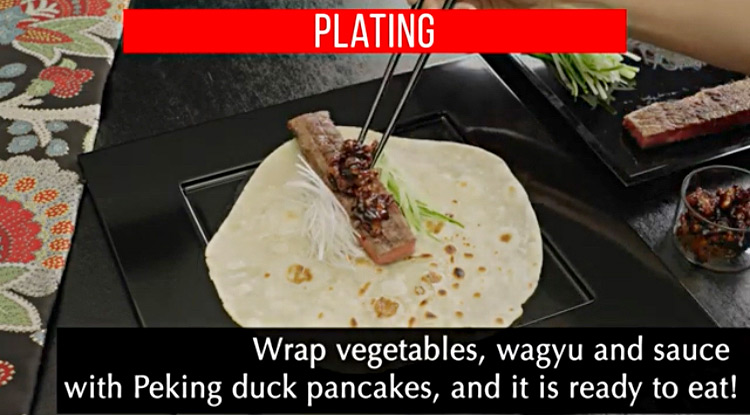 Peking duck pancakes ... 2 Peking duck pancakes, 50g Flour, 50g Rice flour, 10cc Oil, 50cc Hot water, 2g Salt, or Tortilla.
Ingredients and sauce ... 1/4 white part of leek, 30g Sweetened soybean paste, 5g Honey, 30g Walnuts, 1/2 cucumber.

Tempura Roll Sushi with Tender Wagyu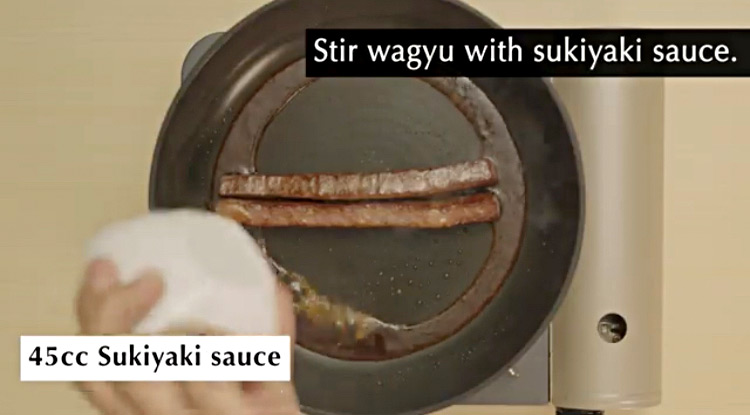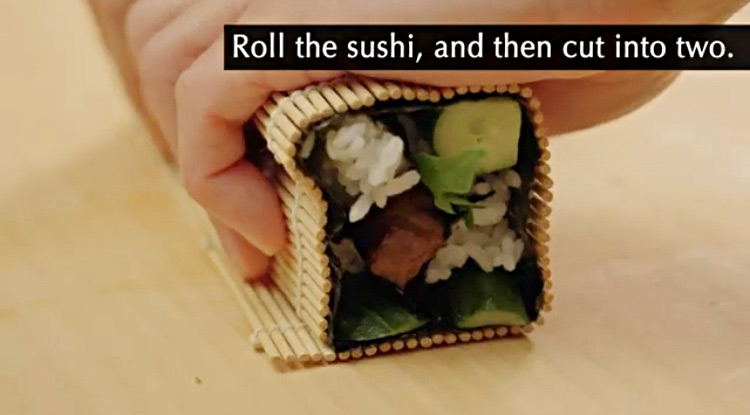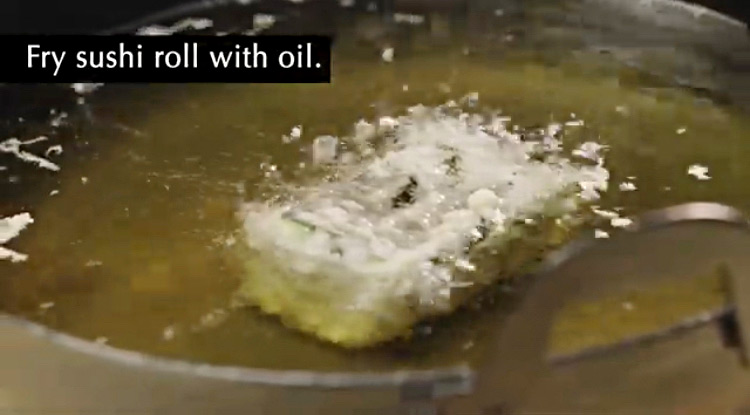 ZABUTON(Chuck Flap), 300g Cooked rice, 30cc Sushi vinegar, 2 Green shiso leaves, 1 Cucumber, 2 Roasted seaweed sheets, Tempura batter, 120g Flour, 150cc Cold water, 1 Egg, 40g Cream cheese, Salt, Pepper, 10g Wasabi, 5cc Lemon juice, tempura dipping sauce.
Sukiyaki sauce ... 90cc Soy sauce, 90cc Sweet sake, 50g Caster sugar.

Cola infused Wagyu Stew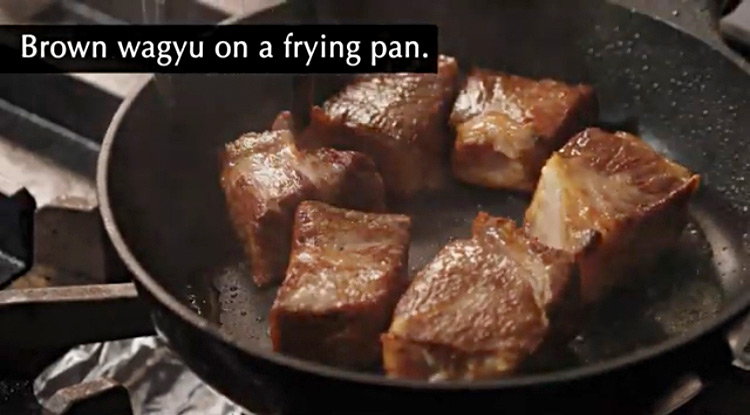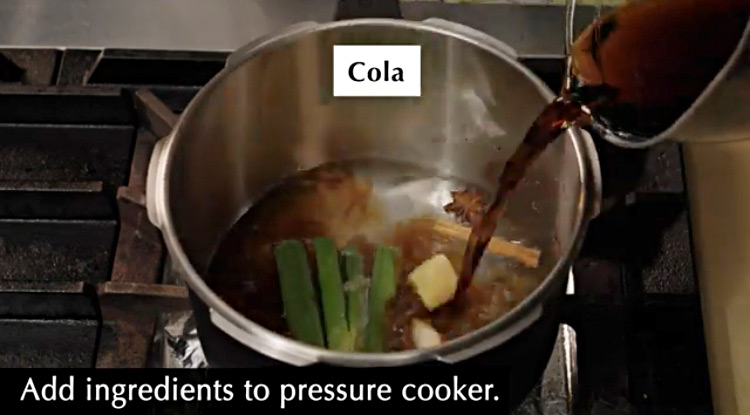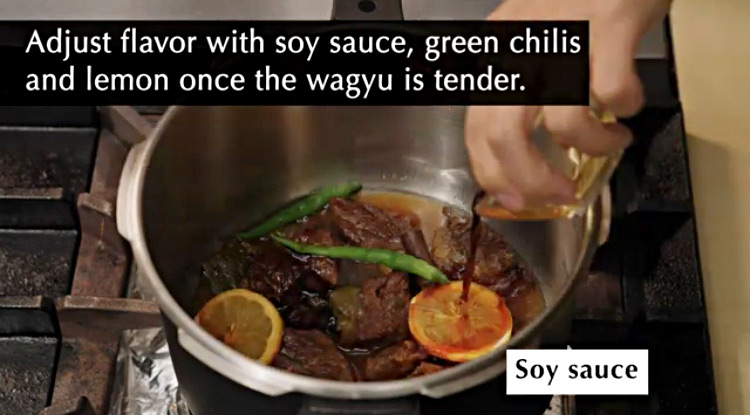 Chuck Roll Dice Cut, Green part of leek, 10g Ginger, 10g Garlic, 1 Cinnamon, 500cc Cola, 20g Sugar, 400cc Water, 3 Green chilis, 30cc Soy sauce, 2 Star anises, 2 Lemon slice.
Garnish ... French fries, 10g Unsalted butter, Salt, 1 Thyme.